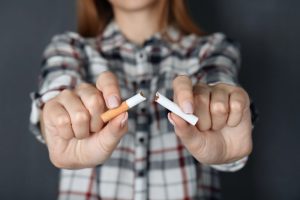 Quitting smoking isn't easy, but it's easier with the right help. Tobacco use remains the leading cause of preventable death and disease in the U.S., killing close to half a million people each year. Living a smoke-free life will benefit your health, wallet, and give your loved ones some peace of mind.
If you made 2018 your year to stop smoking Barbour Community Health Association is here to support your smoke-free goal. Take charge of your health in 2018 with the help of Belington Medical Clinic and Myers Clinic.
The Belington Medical Clinic and Myers Clinic will each be offering a free program developed by the American Lung Association called Freedom from Smoking. Participants can attend either the Belington or Philippi sessions interchangeably throughout the seven weeks.
Eight classes are held over seven weeks. Group leaders are certified facilitators who will discuss preparing and planning to quit as well as lifestyle changes that support tobacco-free living. The Myers Clinic's eight sessions, which are held from 2-4pm, take place each Thursday beginning January 18th. Belington Medical Clinic's sessions will be held each Monday from 6-8pm and begin January 15th.
To find out more information about the program or to register, please call Lesa Jordan at the Belington Medical Clinic at 304-823-2800, ext. 151 by January 10.