During the past ten years, the PANIC (Physical Activity and Nutrition in the Community) program has been a fun opportunity for the entire family to learn exercise and nutrition tips to lead healthier and happier lives. Here are the top 5 reasons to participate in PANIC this year!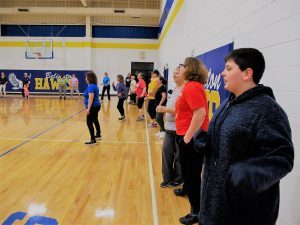 Fun ways to exercise– We have a variety of fun exercises, from yoga, square dancing, Zumba and more. Get motivated in a group workout session and learn new ways to exercise from home or the gym.
You'll learn a lot – Guests speakers will present on various health and wellness topics, filling you in on relevant health news. Take home informational packets on the topics presented to share with your family and friends.
There will be PRIZES!– You can win BIG just for participating! From Wellness Center memberships to blender bottles and gift certificates you could take home a prize. Good luck!
Offered 6 days– PANIC occurs Mondays, March 5th to April 9th so you have plenty of sessions to choose from – its flexible, so come to one session or all! Whatever fits your schedule.
IT'S FREE! – Did we mention it's FREE? Don't miss out on the fun, prizes and healthy tips you'll gain from this year's PANIC sessions.
Don't miss out on the fun at Belington Middle School. Remember that sessions are held on Monday evenings March 5th through April 9th from 6PM to 8PM. You'll need to bring along your water bottle and clean shoes. Free healthy snacks will be provided!