A physician assistant (PA), at a glance, is an easily misunderstood role—becoming a physician assistant requires more than a four-year education, and it is likely you've been treated by a PA while assuming they were a physician. In reality, a PA typically has more time than a doctor to spend time with patients and provide care. To learn what it means to be a physician assistant, we spoke with one of our resident PA's at Myers Clinic in Philippi, West Virginia, Jessica Weiner.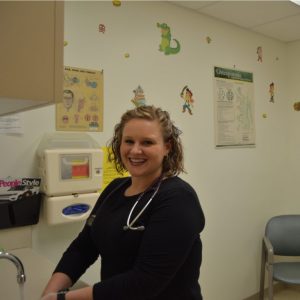 Q. First of all, tell us a little about your current position and how long you've been at it?
A. My name is Jessica Weiner. I am a physician assistant (PA) at the Myers Clinic. A PA is a medical professional who is licensed both federally and locally to practice medicine. My scope of practice includes examining patients, ordering and interpreting tests, performing procedures, and diagnosing and treating pathology under the supervision of a collaborating physician. I have been working a little over two years now at the Myers Clinic. Prior to that, I was in school for about seven years preparing for this career.
Q. What drove you to choose this career path?
A. I spent seven years as a Pharmacy Technician before deciding to become a Physician Assistant. A friend in the program recommended this direction and like many of my colleagues, I was drawn to this profession through a passion to help people. The broad range of options following graduation as well as the ability to take more time with each patient and not have a rushed schedule was appealing to me.
Q. Misconceptions do people often have about your job?
A. Some people assume PA's have doctor status and that being a PA limits our ability to treat patients. One misunderstanding is that a PA is still in school or training to be a doctor. I respond by explaining that I already spent a lot of time in school in order to become a PA and that I am a fully licensed medical professional who has completed all requisite training. I want my patients to feel comfortable knowing they are being cared for by a well-trained, proficient professional.
Q. Most enjoyable part of the job?
A. Having a positive impact on someone's life is the most rewarding part of the job. It is certainly not all happy times. I have stressful days, but the patient who sincerely appreciates your care quickly buffers any acidic memories.
Q. When not at BCHA, what do you enjoy doing?
A. Along with being a committee member for our local Young Life group, I enjoy spending time with my 18-month daughter and helping my husband with his involvement with the Alderson Broaddus University Cross Country and Track & Field teams.